Tripping The Live Fantastic
Disclaimer
Images used, herein, are owned by the individual copyright holders and are presented for review and promotional purposes only.
Ausschlussklausel
Hier dargestellte Bilder sind Eigentum der jeweiligen Rechteinhaber. Sie sind ausschließlich zum Zwecke der Rezension und der Promotion dargestellt.
---
see also Tripping The Live Fantastic - Highlights!
---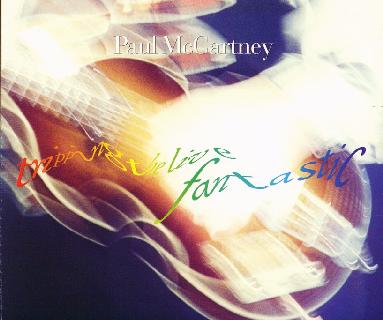 Release date:

5 November 1990

Recorded:

during World Tour, Oct.1989 - June 1990

Musicians:

Paul McCartney, Linda McCartney, Robbie McIntosh, Hamish Stuart, Chris Whitten, Paul 'Wix' Wickens

Engineer:

Jeff Cohen assisted by Geoff Foster, Eddie Klein, Scott Hull, Geroge Cowan, Paul Rushbrook, Matt Butler

Mixed by:

Bob Clearmountain

Producer:

Paul McCartney, Bob Clearmountain & Peter Henderson

GB chart ratings:

n/a

US chart ratings:

n/a
U.K. Release 5 November 1990, Parlophone CDS 7 94778 2, CD PCST 73461-2
U.S. Release 5 November 1990, Capitol CDP 7 94778 2
CD1
Total Playing Time 70:00
| | | |
| --- | --- | --- |
| 1 | Showtime | 0:39 |
| 2 | Figure Of Eight | 5:33 |
| 3 | Jet | 4:02 |
| 4 | Rough Ride | 4:48 |
| 5 | Got To Get You Into My Life | 3:22 |
| 6 | Band On The Run | 5:09 |
| 7 | Birthday | 2:44 |
| 8 | Ebony And Ivory | 4:01 |
| 9 | We Got Married | 6:38 |
| 10 | Inner City Madness | 1:22 |
| 11 | Maybe I'm Amazed | 4:42 |
| 12 | The Long And Winding Road | 4:19 |
| 13 | Crackin' Up | 0:49 |
| 14 | The Fool On The Hill | 5:01 |
| 15 | Sgt Pepper's Lonely Hearts Club Band | 6:24 |
| 16 | Can't Buy Me Love | 2:15 |
| 17 | Matchbox | 3:10 |
| 18 | Put It There | 2:43 |
| 19 | Together | 2:17 |
CD2
Total Playing Time 68:28
| | | |
| --- | --- | --- |
| 1 | Things We Said Today | 5:02 |
| 2 | Eleanor Rigby | 2:37 |
| 3 | This One | 4:28 |
| 4 | My Brave Face | 3:09 |
| 5 | Back In The U.S.S.R | 3:16 |
| 6 | I Saw Here Standing There | 3:25 |
| 7 | Twenty Flight Rock | 3:10 |
| 8 | Coming Up | 5:18 |
| 9 | Sally | 2:03 |
| 10 | Let It Be | 3:54 |
| 11 | Ain't That A Shame | 2:39 |
| 12 | Live And Let Die | 3:13 |
| 13 | If I Were Not Upon The Stage | 0:36 |
| 14 | Hey Jude | 8:04 |
| 15 | Yesterday | 2:06 |
| 16 | Get Back | 4:12 |
| 17 | Golden Slumbers/Carry That Weight/The End | 6:41 |
| 18 | Don't Let The Sun Catch You Crying | 4:33 |
| | |
| --- | --- |
| $26.97 | |
---
---
©1995,96 Harald Gernhardt's Beatles Pages